Credit: © 2022 Ākina Foundation
Aotearoa needs more businesses that make a positive difference
New Zealand's impact investing market is valued at $8 billion. Investors are increasingly looking to invest in businesses that make a positive difference to people and the planet – not just profit.
"Receiving support from Ākina will support our aim to create a circular economy in Aotearoa. Our mission is to consolidate council and industry infrastructure into a single Bioenergy Processing Recovery Plant (BRRP), and this funding will allow us to start seeking impact investment. By working together we can convert Aotearoa's $17 emissions liability into economic value and prevent the cost from being borne by ratepayers and farmers."

That's why Ākina runs an annual programme that supports impact-driven businesses that plan to seek investment.
Alimentary is proud to be included in the round of funding recipients for the 2022 Impact Investment Readiness Programme (IIRP). Not an easy feat with the high number of applicants - over 169 and we were one of only 11.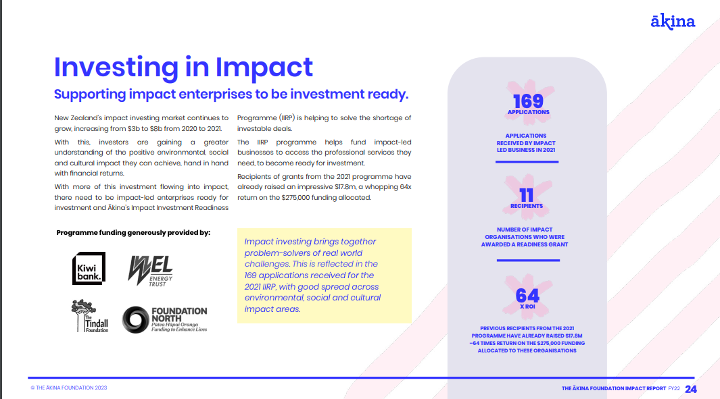 Credit: Akina
Ākina exists to transform New Zealand's economy through the power of impact. We're doing this by helping to grow a bigger and stronger impact investing market in New Zealand, where more funding is available for social, cultural and environmental initiatives.
The IIRP is run by Ākina, with funding from our generous programme partners; The Tindall Foundation, Kiwibank, Foundation North and WEL Energy Trust. This is our sixth year running the IIRP and our largest yet with a funding pool of $300,000.
The Ākina IIRP provides funding of up to $30,000 for impact-led businesses to spend on professional support that gets them ready for investment. After completing the readiness work, recipients typically receive significant investment and grow their business and impact accordingly.
In five years, Ākina says IIRP recipients were granted $795,000 in funding and then went on to raise $49.75m in impact investment … that's 62 times the amount granted! 
We want this programme to encourage more investment in impact-driven pakihi (businesses), to increase the overall impact made by social enterprises and other purpose-led businesses in New Zealand.
The Ākina Impact Investment Readiness Programme is currently the only one of its kind in Aotearoa New Zealand. In Australia, the government supports an investment programme similar to this one; and Ākina is calling for the New Zealand Government to do the same to accelerate the growth of the New Zealand impact investing market.